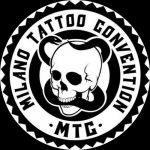 Killer Ink Tattoo på Milano Tattoo Convention
marts 3, 2017

marts 3, 2017

dk

https://www.killerinktattoo.dk/skin/frontend/killer/default/images/logo.svg

https://www.killerinktattoo.dk/
Milan er måske bedst kendt som en modehovedstad, men de ved virkelig hvordan man laver en 'killer' tatoveringskonvention!
Vi tog til Italien i begyndelsen af februar for den 22 årligt Milano Tattoo Convention, som i år skiftede sted og er nu holdt på den største kongrescenter i Europa, Milano Congressi.
I løbet af de tre dage filmede vi denne video der indeholder nogle af vores gode venner og sponsorerede kunstnere, og viser hvornår de arbejder på nogle grusom tatoveringer.
Tjek det ud nedenfor!
Som prikken over i'et i 2017 udgaven af Milano Tattoo Convention, vandt vores sponsorerede kunstner Ryan Smith pris for 'Best of Show' med en utrolig tatovering han gjorde sammen med Jay Freestyle.
Priser gik også til vores sponsorerede kunstnere Debora Cherrys ('Best of Friday') og Sandra Daukshta ('2nd Best of Saturday'), mens vores gode ven Benjamin Laukis vandt 'Best of Saturday'.
Sørg for at tjekke vores sociale medie konti for at se hvilke konventioner vi vil deltage ved!