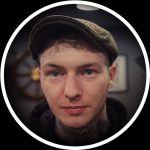 Luke Sayer Interview
Maj 16, 2019

Maj 16, 2019

dk

https://www.killerinktattoo.dk/skin/frontend/killer/default/images/logo.svg

https://www.killerinktattoo.dk/
Med sine realistiske sorte og grå tatoveringer har Luke Sayer opbygget et fremragende ry og en stor fanskare gennem årene. Nu er det vores tur til at sætte ham i rampelyset for vores seneste interview.
Vi talte med Luke om alt hvad der har med tatovering at gøre, herunder hvordan han formåede at vinde den første udgave af E4s Tattoo of Artist of the Year tilbage i 2017.
Tjek det ud!
Luke Sayer, en Killer Ink Sponsored månedens artist, arbejder lige nu i sit eget tatoveringsstudie i Milnthorpe, Cumbria, hvor denne video er filmet.
Sørg for at følge hans seneste arbejde på Facebook, Instagram og Twitter!