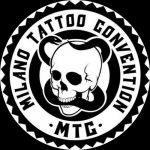 Milano Tattoo Convention 2019 Video
marts 22, 2019

marts 22, 2019

dk

https://www.killerinktattoo.dk/skin/frontend/killer/default/images/logo.svg

https://www.killerinktattoo.dk/
I sidste måned lukkede vi op for vores messekalender med endnu en udgave af den fantastiske Milano Tattoo Convention!
Det er en af de mest prestigefyldte tatoveringsmesser i Europa, så vi bringer dig alle højdepunkterne i vores seneste video!
Gå ikke glip af denne - den viser nogle af de bedste kunstnere i verden, der arbejder på fænomenale tatoveringer!
Apropos fænomenale tatoveringer, så fik vores sponsorerede artist Sandra Daukshta to priser for et fantastisk sleeve som hun startede og færdiggjorde under Milano Tattoo Convention 2019. Første halvdel af tatoveringen, a pæon, vandt '3rd Best of Friday', mens tilføjelsen af to portrætter udløste 'Best of Saturday' for det fulde arbejde.
Artisterne Kindamo og Mr Nobody fra Alex De Pase Stores Gemini Ink vandt 'Best Realistic' for deres sorte og grå samarbejde, mens parret Rich Harris og Jamie Lee Knott fra Dark Horse Collective vandt '2nd Best Colour' for en helt utrolig bentatovering.
Vores gode ven Benjamin Laukis rundede prisoverrækkelsen af ved både at vinde '3rd Best of Show' for sin stilfulde tohovedpige og '3rd Best Realistic' for et vildt sleeve, der viste en trio af Inkjecta Flite Nano maskiner.